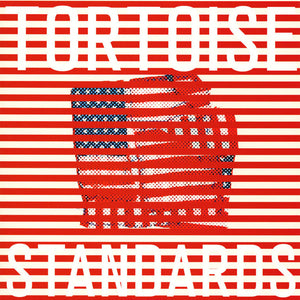 "Standards," the fourth full-length recording from Chicago's Tortoise, boldly announces their return following 1998's TNT. Tortoise spent the bulk of 1998 and a portion of 1999 touring the world. Following tours of the U.S., Europe, South America, Japan, Brazil, and Australia, Tortoise members worked on other projects that occupied them until the spring of 2000 when they began to record Standards. In 1999 members of the band toured the US as the backing band for legendary Brazilian composer/singer Tom Zé's. Tortoise-members Dan Bitney, John Herndon and Jeff Parker worked fastidiously to record and tour in support of two full-length Isotope 217 albums. Parker also contributed to two records made under the Chicago Underground moniker, appeared in the film High Fidelity and lent his talents to a variety of other records. Douglas McCombs realized a full-length album and EP as Brokeback and recorded new records with Eleventh Dream Day and Pullman. John McEntire completed construction of his Soma Electronic Music Studios, composed and recorded music to the John Hughes film Reach the Rock and was still able to record and/or produce Stereolab, The High Llamas, The For Carnation, Smog and The Sea & Cake as well as Standards.
Musically, Standards is their most concise statement of purpose thus far. The tunes are direct and immediate, yet they maintain the exploratory edge that has always characterized the group's output. The fusion of instrumental sounds (electric, acoustic, and synthesized) is subtle and subversive. Similarly, the group's fluency within the studio environment gives the finished work a quality that alternates between artifice and reality. Whilst TNT was constructed in the studio using segments recorded, improvised or altered electronically, the "Standards" sessions began after a period of rehearsal and composition. The contrast, simply stated, is that the studio was used extensively as a compositional tool for TNT, whereas with Standards it was used predominantly as tool to realize and enhance the existing new compositions. The studio does not impose itself on the recording to the same degree we witnessed on TNT, and the resulting record is in many ways reminiscent of their unadorned self-titled debut. Sounds, notes and rhythms are manipulated (such as the drums on "Seneca") but in general, processing is spare (with the exception of first half of "Benway," which is entirely synthesized). From the dramatic opening of "Seneca" to the soaring melodies of "Blackjack"; from the swing of "Benway" to the motion of "Six Pack", Standards is anything but standard. Tortoise's highly lyrical melodies, rich and varied tonal palette and high level of musicianship were recorded in a studio designed by McEntire. The resulting record is the clearest demonstration of the band's many skills and strengths.
In recent years Tortoise has become part of the fabric of our culture. The have inspired countless other musicians. Their music has been used in commercials, films and fashion shows. They have used each successive record and collaboration, whether it's Autechre, Tom Ze, Steve Albini, Derrick Carter or Oval to name a few, to push their personal musical boundaries individually and collective. John Herndon once commented, "When our music works best, it can be either a backdrop to your life, or you can concentrate on it totally." As with all their works, Standards serves both these dual functions, and does so more confidently and completely than its predecessors. Standards is a document of lessons learned and skills refined. It is clearly their finest work to date.
Tortoise are: Dan Bitney: Bass, Guitar, Percussion, Vibes, Marimba, Keyboards, Baritone Saxophone John Herndon: Drums, Vibes, Keyboards, Sequencing Douglas McCombs: Bass, Bass 6, Guitar, Lap Steel John McEntire: Drums, Modular Synthesizer, Ring Modulator Guitar, Electric Harpsichord, Keyboards Jeff Parker: Guitar, Bass.
A1 Seneca
A2 Eros
A3 Benway
A4 Firefly
A5 Six Pack
B1 Eden 2
B2 Monica
B3 Blackjack
B4 Eden 1
B5 Speakeasy