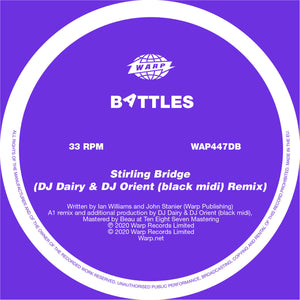 Release date: Friday 20th November 2020.

Battles, New York City's preeminent experimental rock duo, release a 12" of remixes from DJ Dairy and DJ Orient (black midi), Delroy Edwards, Shed, and DJ Nigga Fox, titled Juice B Mixed via Warp Records.
The release sees the aforementioned artists using an array of sounds from across the spectrum of Battles' latest LP Juice B Crypts, released late last year. In utilizing the wide array of sounds, the remixers have created work that is not singularly indebted to one song or another, rather inspired by the sonic world of the album and serving as an extension of it. The remixers have utilized this creative freedom to the fullest, delivering a collection of songs that occupy distinctly different spaces of the electronic music landscape while retaining a shared connectivity to the original work. 4 uniquely individual remixes, remixing one of the uniquely individual bands of the new millennium, tied together by experimental spirit and a shared musical perspective.
A1. Stirling Bridge (DJ Dairy and DJ Orient (black midi) Remix)
A2. IZM (Shed Remix)
B1. Juice B Crypts (Delroy Edwards Remix)
B2. Carnaval Supremo (DJ Nigga Fox Remix)