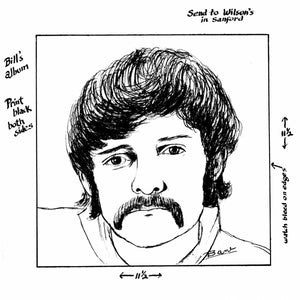 Just when you thought every loner folk genius had been outed/discovered, hyped and pontificated about, a new/old challenger lurks in the murky depths of time… and Maine. Sure, you have your Skip Spences, Dave Bixbys, Stone Harbours and Perry Leopolds already but have you heard the lonesome sound of Bill Stone? Well, don't feel bad, hardly anyone has – unless you lived in rural Maine in the early 70s and grabbed his barely-ever seen LP in the day. Titled simply 'Stone', Bill's mysterious album was pressed in the micro-est of quantities, covering wistful, airy psychedelia on par with the UK's Mark Fry classic 'Dreaming of Alice', while still evoking the earthy, evening-hour melancholy of Leonard Cohen or Tom Rapp. Stone was also especially influenced by one Donny P. Leitch, one Robby Zimmerman and much trad folk, while growing up in his hometown of Old Town, Maine.
Stone started out playing in a few small folk ensembles while also moonlighting with occasional solo gigs, finally recording this lone platter in 1969 in a pottery studio on a 2-track Panasonic tape recorder in Boothbay, Maine (where he says, they competed with a cat in heat). The LP features Tom Blackwell/Bill Stone – guitars, Arthur Webster – bass, Bob Blackwell/Skip Smith – drums, Bill/Beth Waterhouse on vocals. It also seems cover artist Doug Bane went on to become an acclaimed cosmic painter – committing loads of animals, psychedelic scenes and Native American portraits to canvas.

It seems Stone's solo career slowed down after marriage hit and he transitioned to playing covers in bars for cash but, after acquiring a masters and doctorate in education, he moved into the teaching walk of life. Bill published books and articles on subjects as diverse as school counselling and chaos theory but, now retired, he's returned to music, even recording a new album of originals and traditional numbers, based on his experiences as a cab driver. So with Bill back in action and the world slowly crawling out of a disillusioning haze, now seems like the perfect time for a first-time-ever reissue of this incredibly rare, happy-sad, gently delicate, Stone(d) classic of a downer song-cycle.
1. Here I Am
2. Purple
3. Fog
4. Friends
5. Vision On Sherman Street
6. The Fate of…
7. …Jessica's Lover
8. Part Time Girl
9. Crystal
10. Charlotte's Town
11. The Fate of Jessica's Lover