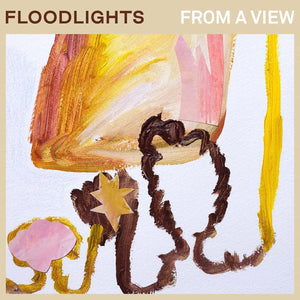 On yellow ochre vinyl.
"The jangled goodness that rolls out of Australia never flags and Melbourne's Floodlights have taken up the emotionally scarred mantle from many of their peers – echoing The Bats, The Chills, Goon Sax.." Raven Sings The Blues
"It's careworn and polemical and quite lovely..With Rolling Blackouts and The Goon Sax then perhaps occupying the left- and right-hand thrones of the current Australian guitar pop court, Floodlights are the new prince; a little uncouth and unconcerned with courtly manners, proud and ready to stir and advance their own political, lyrical and sonic ways." Backseat Mafia
'From a View' deliciously evokes those 1980's days of musical promise, with the likes of the the Go-Betweens and REM energetically awaiting their
turn in the musical spotlight. The album starts with the builder 'Water's Edge', with great vocals from Louis Parsons and minimal guitar motifs reminiscent to these ears of the Pale Saints.' Pennyblackmusic.
Nao Anzai (Rolling Blackouts Coastal Fever) engineered the album and then mixed it over the infamous Australian summer. Mikey Young (Total Control/Eddie Current) recently added the final touch with mastering.
"It's careworn and polemical and quite lovely..With Rolling Blackouts and The Goon Sax then perhaps occupying the left- and right-hand thrones of the current Australian guitar pop court, Floodlights are the new prince; a little uncouth and unconcerned with courtly manners, proud and ready to stir and advance their own political, lyrical and sonic ways."
1. Water's Edge
2. Matter Of Time
3. Walk Away
4. Don't Pick That Scratch
5. Glory Of Control
6. Thanks For Understanding
7. It Was All Going So Well
8. Tropical Fun
9. Proud and Well
10. Shifting Shadows
11. Happiness