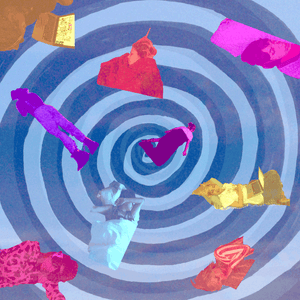 On "Dizzy Strange Summer", Genevieve Artadi offers a window into her ad-lib creativity and the LA community where it's been nurtured. This is the vocalist, composer and producer's second solo album, and it sees her stake out her own ground outside of her other groups KNOWER, Expensive Magnets and Everything's Under Control. She brings her own slant to the DIY LA scene that she's grown up in, melding influences from jazz, psychedelia, bossa nova and avant-garde electronics. "Dizzy Strange Summer" marks not only Artadi's debut on Flying Lotus' Brainfeeder imprint, but her first self-produced project released on any record label.

An impulsive spirit underwrites every part of the album, something reflected in the energy Genevieve devotes to create the videos to accompany them. It's an honest, unmediated reflection of the period in which she created the music, supported by a close circle of like-minded musical friends including – but not limited to – Louis Cole (Brainfeeder), Sam Wilkes (Leaving Records), Henry Halliwell, Daniel Sunshine, Adam Weissman (Pollyn / Real Bad Man), Ruslan Sirota, Ross Garren, David Binney and Jacob Mann — each of whom she tapped up to add their flavour to songs where she felt their styles or talents aligned. Most tracks would begin life on her laptop, be sent to a friend for them to add their spin to it, before coming back to Artadi to be elevated to their final form. Reflecting on what drives her to create, she says: "Sometimes I just really get that burning feeling to make something and get it out there." Above all, this is an album that speaks to that drive: to create something and share it with people.

"Dizzy Strange Summer" revels in juxtapositions, unleashing high energy assaults at full tilt before giving way to soft-focus melancholia, allowing Genevieve to show off the full spectrum of her vocal prowess. On the first single 'Living Like I Know I'm Gonna Die' for example, her delivery is beautifully understated and airy: "Living like the future is a guess, living like I'm smaller than a speck". "I sing it softly 'cos it's an internal proclamation… a message to myself," she explains. She displays this vulnerability on 'All I Want For Now', 'Before The Dark' and 'Will You Tell Me' too – the latter a stunning duet with harp. Elsewhere, on 'Godzillaaaa' for example, her delivery is informed by ESG and Talking Heads, stomping past on a stark riddim in a whirlwind of distorted percussion and synths.
Side A
01. I Hate When I Can't Feel My Heart
02. Living Like I Know I'm Gonna Die – Have a Listen
03. Godzillaaaa (feat. Real Bad Man)
04. Nowhere to Go
05. Edge of the Cliff (feat. David Binney, Louis Cole)
06. Will You Tell Me
07. Loneliness Grows
08. Hot Mess

Side B
01. Hope Song
02. Is What You Believe
03. Feelz Tru
04. oo ya
05. All I Want for Now
06. Mad Child
07. Before the Dark
08. cupcake5