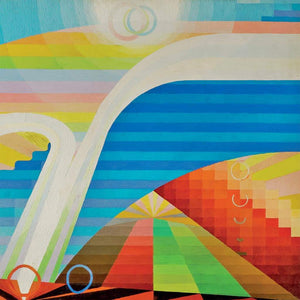 Foat has become a versatile mainstay in UK jazz through an acclaimed series of albums on Jazzman and Athens Of The North, moving from soul-jazz workouts to library music to cinematic, haunting compositions and pastoral acid folk. 'Symphonie Pacifique' goes expansive and widescreen, building a lush soundscape using choral textures, harp and tubular bells on the atmospheric 'After The Storm' alongside sensual groove-based tracks like the undulating 'Anticipation', the album title track and Groove Merchant-channelling 'Nikinakinu', all driven by Phil Achille on bass, Eric Young on congas and Moses Boyd's crisp, flowing breakbeats. Other tracks include a moving tribute to KPM library legend Duncan Lamont on the reflective 'Lament For Lamont' and the languid, simmering 'Island Life'.
The album is a truly international collaboration, recorded analogue and produced by Greg Foat at London's Fish Factory studios with strings recorded in Edinburgh and choir in Gothenburg. The album was mixed by Mattias Glava at Kungsten Studios in Gothenburg. Cover artwork is based on a painting by early 20th Century Algerian / Parisian artist Henry Valensi.
'Symphonie Pacifique' marks another major step forward in Foat's evolution as one of the UK's leading jazz pianists and composers.
1. Prelude
2. Symphonie Pacifique
3. Undulation
4. Anticipation
5. Mu
6. Yonaguni
7. Island Life
8. Nikinakinu
9. Man Vs. Machine
10. Before The Storm
11. After The Storm
12. Meditation On A Pedal Steel
13. Lament For Lamont
14. Pointe-Vénus
15. Mother'S Love
16. Epilogue: Three Tenors