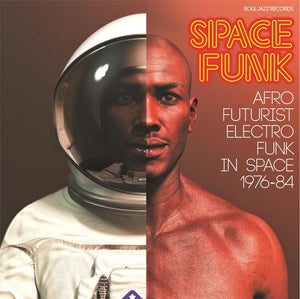 Soul Jazz Records release 'Space Funk: Afro- Futurist Electro Funk In Space 1976-84', an intergalactic journey into black space, fuelled by funk, powered by computers.
'Space Funk' is a lovingly compiled collection of superb, rare and off-the-wall space funk and electro, mostly released on small independent labels in the late 1970s and 1980s. Features music by Jamie Jupitor, Solaris, Robotron 4, Juju & the Space Rangers and many more intergalactic space warriors.

1.L E O - "Fee Fi Fo Fum"
2.The Sonarphonic - "Super Breaker"
3.Santiago - "Bionic Funk"
4.Frank Cornilius - "Computer Games"
5.JUJU & The Space Rangers - "Plastic"
6.Jamie Jupitor - "Computer Power"
7.Solaris - "Space Invaders"
8.Copperfield - "Make It Good To Me Baby"
9.Ernest Flippin II - "Supersonic Space Lady"
10.Funk Machine - "Funk Machine"
11.Ramsey 2C-3D - "Fly Guy & The Unemployed"
12.Ose - "Computer Funk"
13.Below Zero Band - "Seven (We Are)"
14.Rodney Stepp - "Break-Out"
Bonus 7" included with limited edition variant SJR LP449-7
A Robotron 4 - Electro? (Part 1)
B Robotron 4 - Electro? (Part 2)