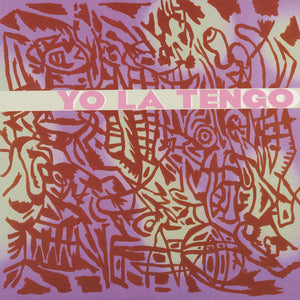 140g 2015 repress.

Ira Kaplan, Georgia Hubley and James McNew sound like no other band. This is not because they're contrarians, but because they're artists. I Am Not Afraid Of You And I Will Beat Your Ass has everything that ever made Yo La Tengo great, but elevated to new heights, from the remarkable orchestral chamber piece "Black Flowers" to the garage-punk rave-up "Watch Out For Me Ronnie." If there's one constant about Yo La Tengo, it's that this famously restless band continues to broaden its horizons.

I Am Not Afraid Of You And I Will Beat Your Ass is an album that delights in being an album. This is no mere loud followed by soft merry-go-round, but a subtle parade. Bookended by very different but equally intense ten-minute-plus guitar epics, the set has dramatic arcs that don't all build in expected ways. After a dense thicket of forest they may find a clearing, stop for a picnic, but then fall asleep, dreaming away as day turns to night. A violin (played by David Mansfield, of Dylan's Rolling Thunder Revue) threads its way through the heartbreakingly fragile "I Feel Like Going Home," mirroring the longing in Georgia's vocal, after which "Mr. Tough" struts in on a funky piano riff, with Ira and James singing in falsetto about the transformative power of music.

As much as the full album experience is about the big picture, Yo La Tengo are aware of the small moments. In fact, it is the slivers that make the band so hard to describe: The ambient static in the haunting instrumental "Daphnia"; Georgia's dramatic reading of the vaguely "Autumn Sweater"-esque "The Room Got Heavy"; the way the drums, bass, and tambourine turn themselves inside-out in the intro of "Pass The Hatchet, I Think I'm Good kind".
Pass The Hatchet, I Think I'm Goodkind 10:45
Beanbag Chair 3:00
I Feel Like Going Home 4:11
Mr. Tough 4:04
Black Flowers 4:26
The Race Is On Again 4:35
The Room Got Heavy 5:10
Sometimes I Don't Get You 3:16
Daphnia 8:50
I Should Have Known Better 3:14
Watch Out For Me Ronnie 2:59
The Weakest Part 3:01
Song For Mahila 3:40
Point And Shoot 4:13
The Story Of Yo La Tango 11:48